Joy Har­jo, the 23rd Poet Lau­re­ate of the Unit­ed States, is a mem­ber of the Mvskoke Nation and belongs to Oce Vpofv (Hick­o­ry Ground).

Born in Tul­sa, Okla­homa, she left home to attend high school at the inno­v­a­tive Insti­tute of Amer­i­can Indi­an Arts, which was then a Bureau of Indi­an Affairs school. Har­jo began writ­ing poet­ry as a mem­ber of the Uni­ver­si­ty of New Mexico's Native stu­dent orga­ni­za­tion, the Kiva Club, in response to Native empow­er­ment move­ments. She went on to earn her MFA at the Iowa Writ­ers' Work­shop and teach Eng­lish, Cre­ative Writ­ing, and Amer­i­can Indi­an Stud­ies at Uni­ver­si­ty of Cal­i­for­nia-Los Ange­les, Uni­ver­si­ty of New Mex­i­co, Uni­ver­si­ty of Ari­zona, Ari­zona State, Uni­ver­si­ty of Illi­nois, Uni­ver­si­ty of Col­orado, Uni­ver­si­ty of Hawai'i, Insti­tute of Amer­i­can Indi­an Arts, and Uni­ver­si­ty of Ten­nessee, while per­form­ing music and poet­ry nation­al­ly and internationally.
Har­jo is the author of nine books of poet­ry, includ­ing her most recent, the high­ly acclaimed An Amer­i­can Sun­rise (2019); Con­flict Res­o­lu­tion for Holy Beings (2015), which was short­list­ed for the Grif­fin Prize and named a Notable Book of the Year by the Amer­i­can Library Asso­ci­a­tion; The Woman Who Fell From the Sky (1994), which received the Okla­homa Book Award; and In Mad Love and War (1990), which received an Amer­i­can Book Award and the Del­more Schwartz Memo­r­i­al Award. Her mem­oir, Crazy Brave, was award­ed the PEN USA Lit­er­ary Award in Cre­ative Non Fic­tion and the Amer­i­can Book Award.
She has pub­lished two award-win­ning children's books, The Good Luck Cat and For a Girl Becom­ing; a col­lab­o­ra­tion with photographer/​astronomer Stephen Strom; an anthol­o­gy of North Amer­i­can Native women's writ­ing; sev­er­al screen­plays and col­lec­tions of prose inter­views; and three plays, includ­ing Wings of Night Sky, Wings of Morn­ing Light, A Play, which she toured as a one-woman show and was recent­ly pub­lished by Wes­leyan Press. She is Exec­u­tive Edi­tor of the forth­com­ing anthol­o­gy When the Light of the World was Sub­dued, Our Songs Came Through — A Nor­ton Anthol­o­gy of Native Nations Poet­ry, to be released in 2020.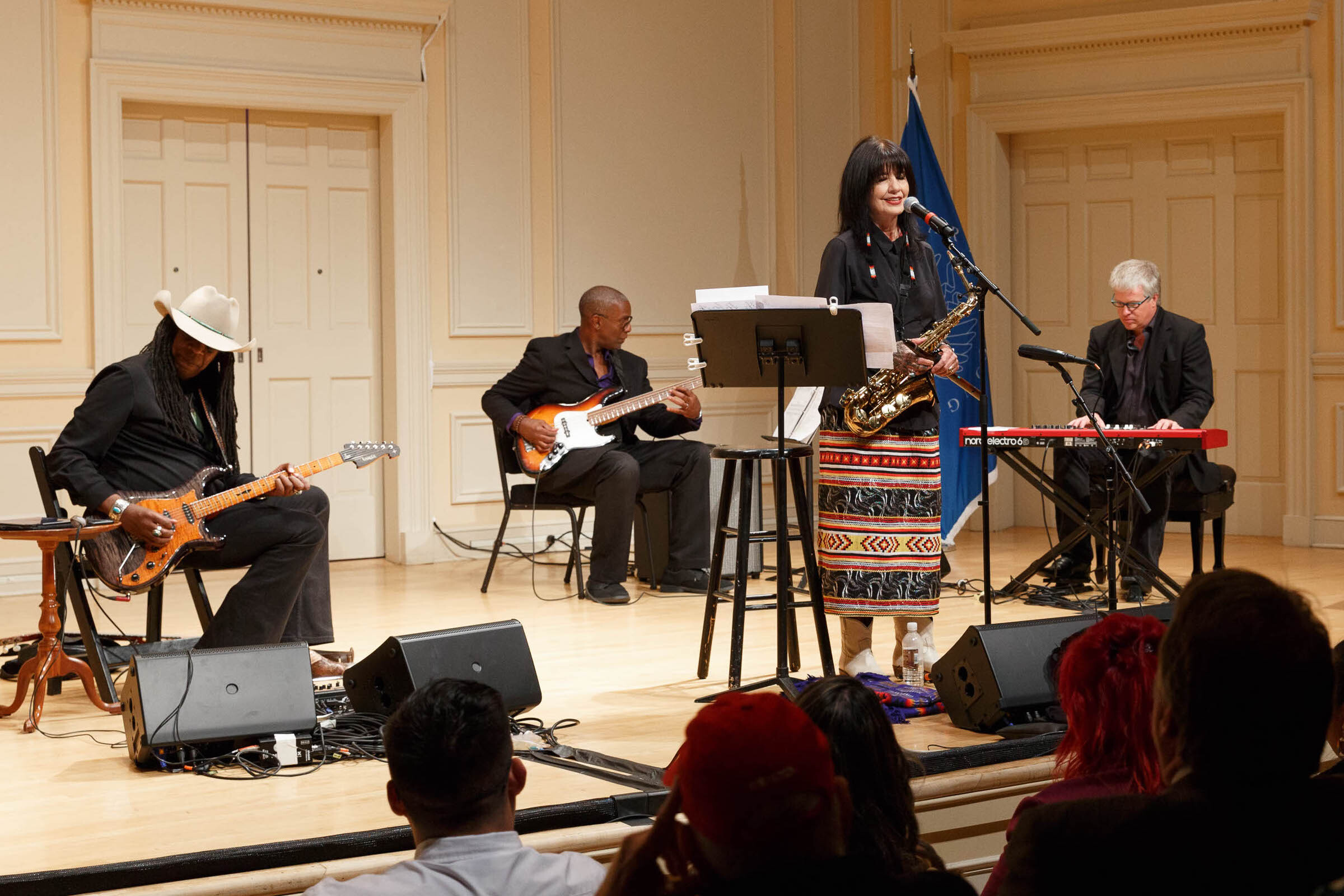 Har­jo per­forms with her sax­o­phone and flutes, solo and with her band, the Arrow Dynam­ics Band, and pre­vi­ous­ly with Joy Har­jo and Poet­ic Jus­tice. She/​they have toured across the U.S. and in Europe, South Amer­i­ca, India, Africa, and Cana­da. Har­jo has pro­duced five award-win­ning music albums includ­ing Wind­ing Through the Milky Way, for which she was award­ed a NAM­MY for Best Female Artist of the year.
She is at work on a musi­cal play, We Were There When Jazz Was Invent­ed, which will change the ori­gin sto­ry of Amer­i­can music to include south­east­ern Native peo­ples. She is also writ­ing her next mem­oir, a his­tor­i­cal mem­oir link­ing her gen­er­a­tion of Native rights activists and work­ers with the sev­enth gen­er­a­tion from which they are descend­ed, a gen­er­a­tion that includes her grand­fa­ther Mon­ah­wee, who with the Red Stick war­riors fought Andrew Jack­son against the unlaw­ful move to Indi­an Ter­ri­to­ry, and her great-uncle Osce­o­la, the Semi­nole warrior.
Harjo's awards for poet­ry include the Ruth Lily Prize for Life­time Achieve­ment from the Poet­ry Foun­da­tion, the Acad­e­my of Amer­i­can Poets Wal­lace Stevens Award, the New Mex­i­co Governor's Award for Excel­lence in the Arts, a PEN USA Lit­er­ary Award, Lila Wallace-Reader's Digest Fund Writ­ers' Award, a Ras­mu­son US Artist Fel­low­ship, two NEA fel­low­ships, and a Guggen­heim Fellowship.
In addi­tion to serv­ing as U.S. Poet Lau­re­ate, Har­jo is a chan­cel­lor of the Acad­e­my of Amer­i­can Poets, holds a Tul­sa Artist Fel­low­ship, directs For Girls Becom­ing, an arts men­tor­ship pro­gram for young Mvskoke women, and is a found­ing board mem­ber of the Native Arts and Cul­tures Foun­da­tion. She lives in Tul­sa, Oklahoma.