Weaving Sundown in a Scarlet Light
Fifty Poems for Fifty Years
A magnificent selection of fifty poems to celebrate three-term US Poet Laureate Joy Harjo's fifty years as a poet.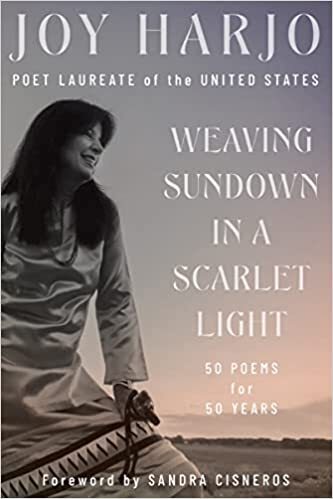 Over a long, influential career in poetry, Joy Harjo has been praised for her "warm, oracular voice" (John Freeman, Boston Globe) that speaks "from a deep and timeless source of compassion for all" (Craig Morgan Teicher, NPR). Her poems are musical, intimate, political, and wise, intertwining ancestral memory and tribal histories with resilience and love.
In this gemlike volume, Harjo selects her best poems from across fifty years, beginning with her early discoveries of her own voice and ending with moving reflections on our contemporary moment. Weaving Sundown in a Scarlet Light traces every occasion of a lifetime; it offers poems on birth, death, love, and resistance; on motherhood and on losing a parent; on fresh beginnings amidst legacies of displacement. Generous notes on each poem offer insight into Harjo's inimitable poetics as she takes inspiration from sunrise and horse songs and jazz, reckons with home and loss, and listens to the natural messengers of the earth.
With a beautiful introduction by bestselling author Sandra Cisneros, Weaving Sundown in a Scarlet Light is a stunning appreciation of an essential, original, and trailblazing voice in American poetry.
Praise for Weaving Sundown in a Scarlet Light
"Joy Harjo's work is both very old and very new. She tells stories in verse, sometimes highly compressed, sometimes long and winding, which ritually invoke and link her to roots and sources. She seeks continuity between what she calls her 'past and future ancestors,' and views each poem as a ceremonial object with the potential to make change. She has found a singing language for grief and meaningfully transforms the American story. Her work is a long-lasting contribution to our literature."
—Edward Hirsch
"Joy's poetry voice is indeed ancient. She has always been a visionary. A healer. A guide. . . . The poems in this collection are a song cycle, a woman warrior's journey in this era, reaching backward and forward and waking in the present moment. A chant for survival."
—Sandra Cisneros
"Harjo, though very much a poet of America, extracts from her own personal and cultural touchstones a more galactal understanding of the world, and her poems become richer for it. Here, she says, is a living, breathing earth to which we're all connected. Here is unbridled potential for the poetic—in everything, even in ourselves."
—Maya Phillips, The New Yorker
"Fueled by a deep musicality and the indelible spirit, the poems of Joy Harjo are at once voraciously inventive and powerfully human. . . . These are poems that hold us up to the truth and insist we pay attention."
—Jackson Poetry Prize citation, judged by Ada Limón, Alicia Ostriker, and D. A. Powell