Winding Through The Milky Way
RELEASED: 2008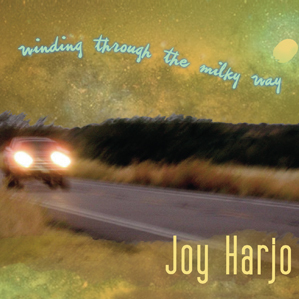 An album of new songs coming from the heart of the Earth.
The opening song reaching into our primordial center and pulling forward into the conscious, the memories of our ancestors to wake us to our destiny.
Winding Through the Milky Way marks the culmination of an ongoing dream. Harjo found her songs first through poetry, and published seven award winning books of poetry, including How We Became Human, New and Selected Poems. She picked up a saxophone in the late 80's and put together the band Joy Harjo and Poetic Justice. With the band she released her first CD Letter from the End of the Twentieth Century , now a classic. Two solo CD's followed: Native Joy for Real, and She Had Some Horses. Among Harjo's honors are the Eagle Spirit Achievement Award for overall contributions in the arts, the New Mexico Governor's Award for Excellence in the Arts and the Lifetime Achievement Award from the Native Writers Circle of the Americas. She performs internationally solo and with her new band. She premiered a reading of her one-woman show (with original music), Wings of Night Sky, Wings of Morning Light at the Public Theater in NYC in 2007. She co-wrote the signature film of the National Museum of the American Indian, A Thousand Roads. Harjo writes a column "Comings and Goings" for her tribal newspaper, the Muscogee Nation News. She lives mostly in Honolulu, Hawai'i where she is a member of the Hui Nalu Canoe Club, and in Albuquerque, New Mexico. Produced by Larry Mitchell.
Fast Horse Recordings 2008, Mekko Productions Inc., 2009
If you'd like an authographed CD, order through PayPal.
If purchasing through PayPal — CDs are $14.99 plus $3 shipping and handling (U.S. orders only). A PayPal account is not required to pay through PayPal. All Major Credit cards accepted.If you'd like your CD autographed, please put it in the notes when processing your payment through PayPal or send us an email requesting your CD by autographed.
*For larger or international orders, Contact for shipping and handling prices.
Cover Art by Joy Harjo
Layout and Design: Teri Hitt
Opening Song for the Maker
Rabbit Is Up to Tricks
This Is My Heart
No Huli
Winding Through the Milky Way
Flute Loop One
Equinox
Morning Song
Sunrise
Flute Loop Two
Witchi Tai To
Goin' Home