Native Joy For Real
RELEASED: 2004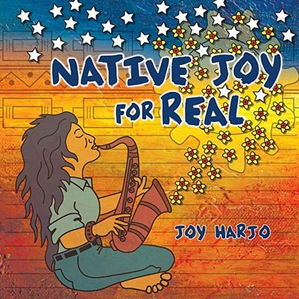 What happens when you mix the powerful lyrics of an internationally known poet with her raw smoky singing and top it with jazzy, saucy licks of her alto sax?
All of this over a music that defies categorization: it's a distinct native sound blended with jazz, rock, even folk and a touch of hip hop soul for spice. You can sing to it, 
you can dance to it, cry to it, even laugh a little.
Mekko Productions
If you'd like an authographed CD, order through PayPal.
If purchasing through PayPal — CDs are $14.99 plus $3 shipping and handling (U.S. orders only). A PayPal account is not required to pay through PayPal. All Major Credit cards accepted.If you'd like your CD autographed, please put it in the notes when processing your payment through PayPal or send us an email requesting your CD by autographed.
*For larger or international orders, Contact for shipping and handling prices.
"Thought provoking lyrics and top notch saxophone licks."

—Amazon, Joanne Shenandoah
"So brimming with soul and beauty, even long time fans will be astonished by the power of its poetic vision. . ."

—Amazon, j. poet, Native People's Magazine
The Last World of Fire and Trash
Grace
Fear Song
Hold Up
The Woman Hanging from the 13th Floor
Reality Show
This is My Heart
Eagle Song
Morning Song
The Had-It-Up-to-Here Round Dance