I Pray for My Enemies
March 5, 2021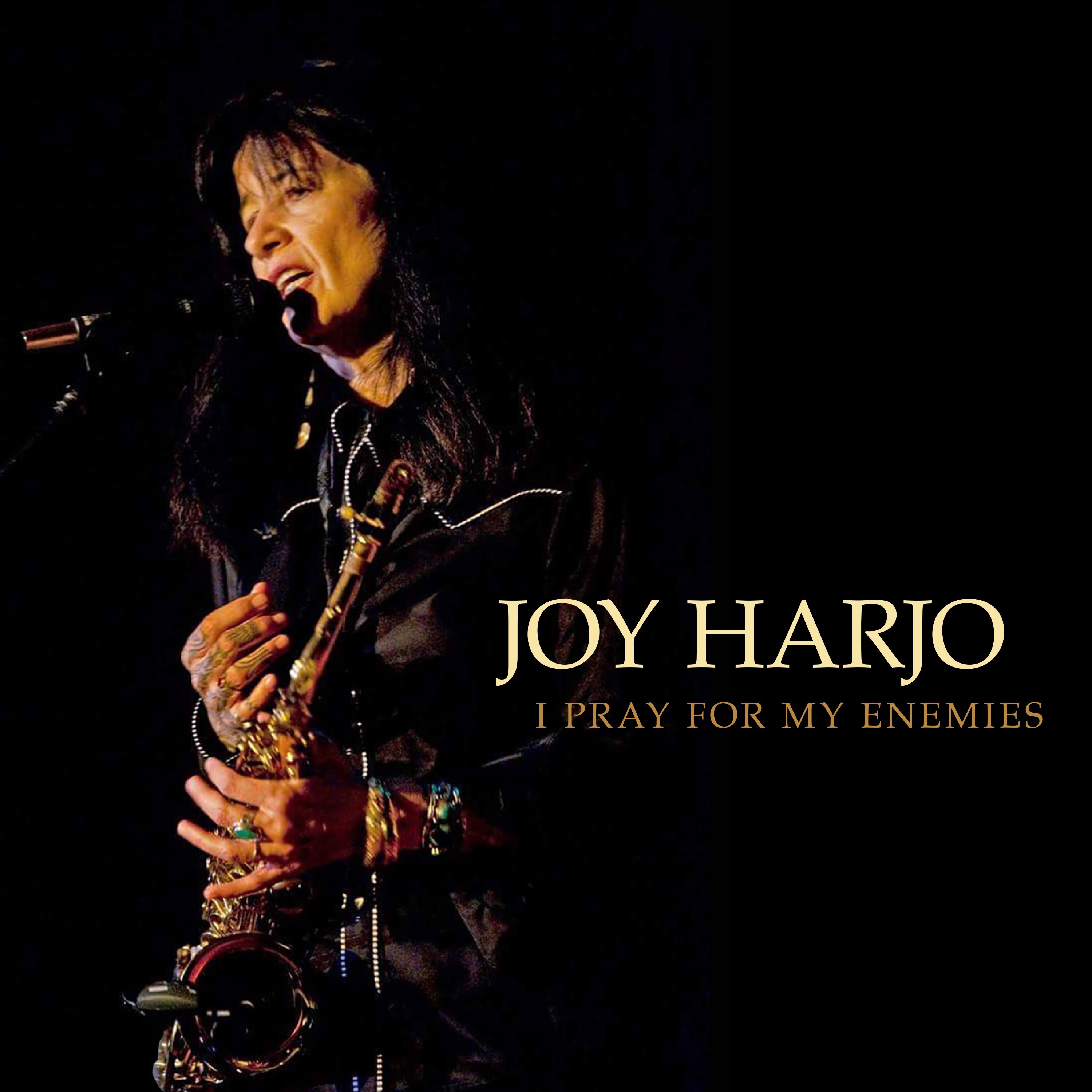 In her first new recording in a decade, Joy Harjo – the first Native American named Poet Laureate of the United States – digs deep into the indigenous red earth and the shared languages of music to sing, speak and play a stunningly original musical meditation that seeks healing for a troubled world – I Pray for My Enemies, newly released on March 5, 2021.

Collaborating with producer/engineer Barrett Martin on this unique new album, Harjo brings a fresh identity to the poetry and songs that have made her a renowned poet of the Muscogee Creek Nation and one of the most authentic and compelling voices of these times.

"The concept for I Pray for My Enemies began" says Harjo, "with an urgent need to deal with discord, opposition. It could have been on a tribal, national or a personal level. I no longer remember. The urgency had a heartbeat and in any gathering of two or more, perhaps the whole planet, our hearts lean to entrainment – that is, to beat together."

Latin Grammy-winning producer, composer and founding father of the historic Seattle music scene, Barrett Martin brings a new dimension to Harjo's unique sound-world – her words and music spoken, sung and explored in a vibrant mix of classic instrumental sounds. Harjo and Martin describe it as "funkified spoken word" inspiring "elegant jazz, urban soul, and inner city, reservation grit." Harjo sings and speaks her poetry, as well as playing saxophone and flute, on an album she describes as "very much of-the-moment."

Martin holds it all together with drums, upright bass, keyboards and production duties on I Pray for My Enemies. He assembled an all-star band to explore Harjo's work, featuring Peter Buck (R.E.M.) on electric guitar and feedback; Mike McCready (Pearl Jam) on electric guitar solos; Krist Novoselic (Nirvana) on acoustic guitar; and Rich Robinson (Black Crowes) on electric guitar solos. Additional players include renowned Iraqi oud master Rahim Alhaj; trumpeter Dave Carter and percussionist/backing vocalist Lisette Garcia. Harjo's stepdaughters sing harmony vocals, and her husband Owen Sapulpa plays surdo drum on the album.

Harjo defines songs and poems as distinctly different expressions, and both are featured in the 16 tracks that make up I Pray for My Enemies. Her words and music, older and newer, get a fresh new identity here. The album opens, however, with a traditional Muscogee song "Allay Na Lee No." "Music travels," she says, adding, "It travels through history, ancestors and especially loves ports and waterways."

Some of Harjo's defining poems appear here – "An American Sunrise," "Fear," "Running" and "Remember" – refracting her own experience as a Native American woman of her culturally defining generation. "Calling the Spirit Back," from an early collection of Harjo's poems, and the new song "How Love Blows Through the Trees" – written when COVID-19 reached her home in Tulsa, OK – echo the suffering of a world experiencing a pandemic.

"Once the World Was Perfect" is based on a version of a Muscogee Creek creation story, which describes a time similar to now. She says, "We lost our way in the dark, forgot who we were, then had to find our way again."

Vignettes and "licks" of songs and poems also appear on I Pray for My Enemies, ranging from the epiphany of "We Emerged from Night in Clothes of Sunrise" to the playful "trickster" piece "Rabbit Invents the Saxophone." Both feature Harjo's soulful sax. "Stomp All Night" delivers all the primal energy the title suggests, inspired by Muscogee Creek social dances.
1. Allay Na Lee No
2. An American Sunrise
3. Calling the Spirit Back
4. How Love Blows Through the Trees
5. Earth House
6. Fear
7. Running
8. We Emerged from Night in Clothes of Sunrise
9. Midnight is a Horn Player
10. Once the World Was Perfect
11. Rabbit Invents the Saxophone
12. Remember
13. Why is Beauty?
14. One Day There Will Be Horses
15. Stomp All Night
16. I Pray for My Enemies